Our Testing Methodology
For all the products we test, there's an all-encompassing testing methodology that we use to give each drone model its final score. The system is based on a number of possible drone purposes – from the standard Videography to the less common Surveillance.
Mixed Usage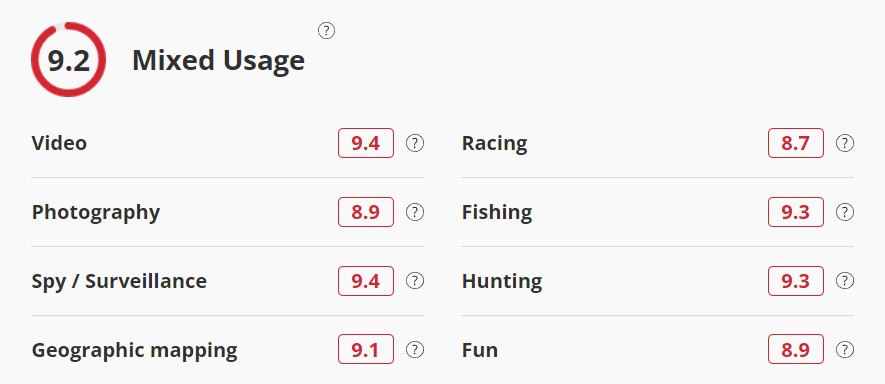 "Mixed Usage" rating is what you'll see next to each model we tested. It's the overall score based on a number of the most common drone usages – from videography to fishing and racing. In addition, each of these scores is also the result of various components evaluation.
Video
If the device will mainly be used for video recording: professional cinematography, blogging, or any other purpose, the device's essential characteristics include a high-resolution camera, broad field of view, and huge memory card capacity, among other things. The better these specs are – the higher its "Video" score.
Photo
If the drone is intended to be used for photography, it should have a high-resolution camera, an Altitude Hold mode for stabilization, and other functionalities like Circle Fly or Gesture Control. The more of such useful features the model has – the more points it gets for the "Photo" score.
Surveillance
Even if the device is not designated for surveillance, when accessing a model overall, it comes in handy to know to what extend it's suitable for this purpose. If the "Spy" rating is high, it means the drone is quiet, has great camera specifications (Live View quality in particular), impressive control distance, and, probably, additional handy features, such as GPS or Obstacle Detection.
Geographic mapping
Ideally, it's a specifically designated device with weatherproof construction, great camera and suitable software. However, more simple models can be used for casual hiking, for instance. If a model boasts of a good quality camera, long control distance and impressive battery life, it has more chances to get a high "Geographic mapping" score.
Fishing and Hunting
Lots of users need a drone as an aid when fishing or hunting. The device should be easy to carry, fly and control. The more purpose-built features it has (like a wide angle camera, night vision mode, and extra quiet motor), the higher the "Fishing and Hunting" score is.
Racing
A high-speed racing drone is a completely different animal than a casual quadcopter. To get good results in racing, the device should be as light as possible and have powerful motors. It is also important to have a great FPV system on board for a first-person view of the race track.
Fun
Some models might not have a camera whatsoever, but they are packed with fun features like Gesture Control, Circle Fly, or 360 Flip. We check which and how many of such features a product has to decide if it's a good choice for just having some fun.
Our all-encompassing testing methodology is a multi-stage system that allows to get an objective score for each drone model. Whatever your intention is, be it videography, photography, fishing or racing – you can be sure to find a drone that would perfectly suit your needs.