Extreme Fliers is reader-supported. We may earn a commission through products purchased using links on this page. Learn more about our process
here
Drone technology is constantly advancing, and currently, there's a high chance that the drone manufacturer has a companion app that you can use to pilot your device. Most drones are operated using a remote control that contains the basic flight operations such as take-off and landing. However, fancy functionalities such as self-piloting modes are reserved for the App, which you can control through your tablet or smartphone. If you have a DJI drone, there's a high chance that you've already installed their standard App for mission planning and flight control: the DJI GO App. What you may not realize is that there are alternative apps that can also help you get the best flight experience. We have compiled this Litchi vs. DJI GO 4 vs. Autopilot to help you determine the App that best fulfills your needs. This in-depth guide contains comprehensive information for each App, including its main features, benefits, and disadvantages. Welcome to the ultimate drone app review!
Litchi App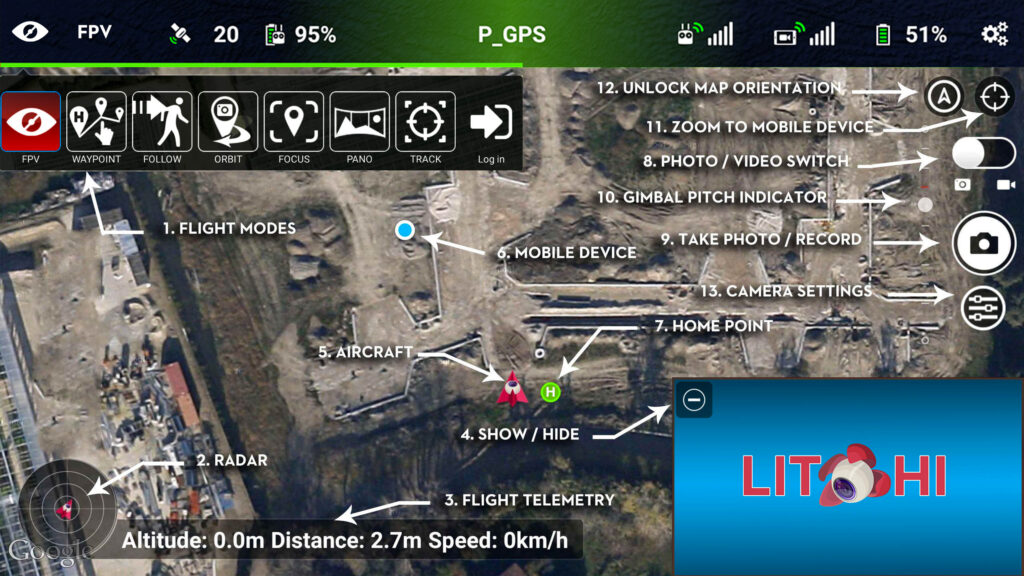 Litchi is a third-party software that provides advanced flight control and waypoint navigation options for DJI drones. Litchi is designed to be an alternative to the DJI Go app, offering more advanced features and greater flexibility for drone pilots. Litchi functions almost like the DJI GO 4 app and is compatible with DJI drones such as Phantom 4 Pro, Inspire 2, and Mavic 2 series. It, however, has more upgraded features that you will love. 
Before we dive into them, here's how this drone App compares in terms of stability and ease of use:
Ease of Use 

Compared to the DJI GO 4 app, Litchi has a steeper learning curve. However, once you get the hang of it, you'll notice that this App is easy to navigate and most of the controls are straightforward.

One of the reasons why Litchi is popular is because they also have a desktop program that allows you to plan and save your mission on a Mac/PC laptop.

You are then able to access the mission via your mobile App. This feature is especially useful if you're having a hard time navigating the controls on a small screen. The desktop program also allows you to view the uploaded flight videos as well as other users' saved missions. 

Litchi is relatively intuitive, but some users have complained that it's a bit complex when it comes to functionality. While this shouldn't be a problem for expert pilots, beginners may have a hard time controlling their drones. However, we quickly realized that the added complexity allows you to achieve more sophisticated tasks, which makes the App worth the extra effort. You can also record your screen during flights and mission planning, allowing you to easily learn from your mistakes. 
Stability 
When you compare Litchi to the DJI GO 4 app, it offers more image stability in waypoint missions. Think about it: this drone app can automatically calculate and adjust the pitch of the gimbal along the mission's path for smoother results. This feature is, however, only available in the new version as there were complaints about the App's image quality and flight stability. 
Litchi Features
The key features of the Litchi app are:
5 Flight Modes
All of them are designed to provide nothing short of high-quality results. Litchi also creates logs for all of your flights and then uploads them to your Airdata UAV account in real-time. This eases your post-flight analysis allowing you to learn from your mistakes. 
The 5 modes are:
Orbit:

This mode enables the drone to revolve around the target as you capture shots.

Track:

with this feature, you can follow any object or person using your drone. For instance, if you choose to track a cyclist with this feature, the drone won't lose track of them.

Focus:

if you're looking to capture the perfect shot, then you'll enjoy the focus mode. It gives you control over the drone's yaw axis and the gimbal, allowing you to only focus on the horizontal movements.

Waypoints:

this is undoubtedly one of the most essential features of the Litchi app. With it, you can easily set irregular paths and even pick out several points of interest along the path. 

Pano:

if you're a fan of panorama, then this App will help you take still photos with high clarity. 
Waypoints Mission Panning
Litchi was the first App to allow drone pilots to set and save missions on their desktops. Their waypoints mission (Litchi mapping) engine is highly intuitive and can be controlled by both beginners and professionals. This mission planner is compatible with all devices, including Mac/ PC, and you can sync the mission across your devices. 
Virtual Reality
This feature allows you to immerse yourself in a whole new world. It offers you an interactive FPV experience by allowing you to watch your mission in a unique yet thrilling way. You should, however, note that this mode requires VR goggles that are sold separately. 
Compatibility
Litchi can be installed on both Android and iOS devices and is compatible with Phantom, Spark, Inspire, and DJI Mavic. 
Litchi recently released updates Trusted Source What's new - Litchi October 2021 Updates flylitchi.com , including:
added waypoint mode for Mavic Air 2 and Mavic Mini 1,

added drone support for Mavic Air 2

Fixed bugs in follow mode. In previous versions, when the gimble encountered elevation changes, it failed to stay on the subject. 
They also eliminated Facebook logins which are highly inconvenient. If you had previously used this social media platform to log into the App, you'll have to migrate your account. 
Below you can find a 5-minute Litchi tutorial video to help you get started with using the features.
Who Is Litchi Best For?
This App is perfect for professional photographers or amateurs that are serious about improving their craft. It has various useful features that will give them added control as they're planning their flights. Litchi costs between $22.99 and $24.99 based on your operating system, and while this may not seem like a large amount, if you don't plan on using it regularly, then it's an added expense that you don't really need. You're better off sticking to the DJI GO 4 app. This is also true if you only use your drone to take some shots once in a while. If you're, however, looking for an app to take your photography skills to the next level, then Litchi should be among your top picks. It is one of the best fly apps for DJI Air 2S and Mini 2.
Pros
Cons

Upgraded key features.

Ability to plan waypoint missions on desktops.

5 efficient flight modes.

Automatic uploading of flight logs into Airdata UAV account.

Gives you more control over your flight experience. 

Fairly expensive, especially if you don't plan on using the App often.

New updates eliminated Facebook logins.
DJI GO 4 App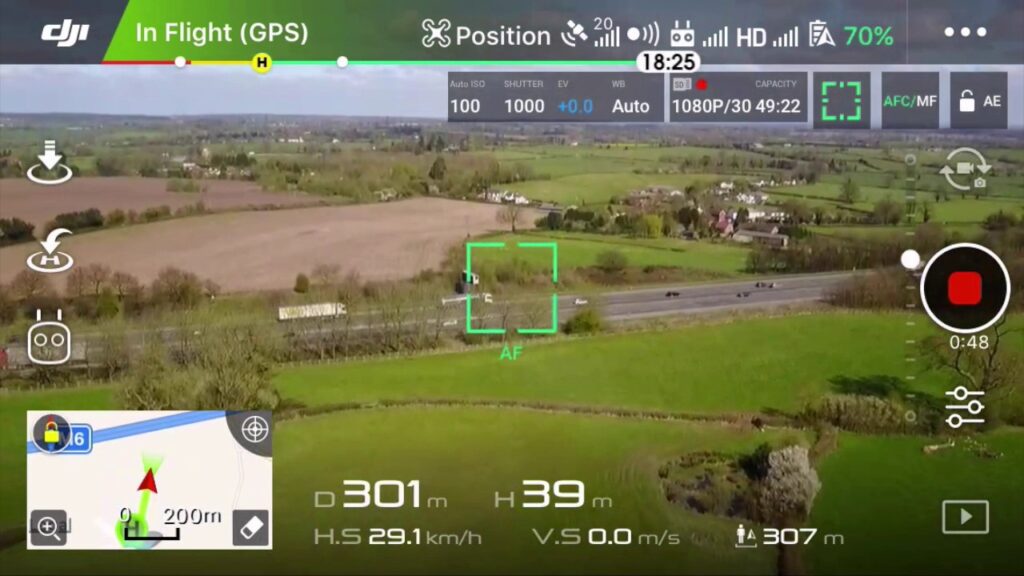 The DJI GO 4 app gives you the best bang for your buck: it's free and has all the basic features required for the standard drone riding experience. Most DJI drone flyers already use this as their default application for their flight control, but even if you're already using another app, this is likely still your base application when it comes to adjusting the default settings of your drone. This is why the DJI GO 4 app is like the baseline for the comparison between Litchi and Autopilot. 
Ease of Use 

This App is user-centric and has been designed with beginner pilots in mind. If you're having a hard time navigating the other apps, then you should start with the DJI GO4, and once you've mastered it, it becomes easy to control your drone with the rest. 

If this is your first drone application, you may have a hard time with the first login. However, this App is highly intuitive, and if you simply click around and explore all the tabs, you'll gain the confidence you need to operate it.

One of the reasons why novice drone pilots prefer this application is because it has easy to adjust default and camera settings.

You'll be better placed to take some good-quality shots without encountering many problems.  
Stability
The DJI GO 4 app is relatively stable and does a good job of following the set points in your mission. However, the camera control is manual, and this makes it significantly difficult to achieve a smooth gimbal tip and yaw. You could use the point of interest feature that allows you to take clear shots of a defined subject as the drone orbits around it, but this eliminates your ability to travel in a predetermined course that's complex. Overall, the DJI GO 4 app has sufficient features required to fly your drone, but it lacks the complexity and customizability features needed to make your flight experience more immersive.
Features
Intelligent flight modes:

this App has 5 flight modes (course lock, home lock, follow me, point of interest, and waypoints). These modes allow you effortlessly to take aerial shots and capture views that are otherwise difficult to do manually. 

SkyPixel:

DJI GO 4 app has a platform where you can share all your videos and images as soon as they are ready. This feature gives you access to video templates, and music but you can also import your referred clips and add filters to customize your visuals. 

DJI Academy:

if you're looking for a simple way to improve your drone piloting skills, this feature has a built-in flight simulator, tutorials, user manuals, and videos that will equip you with the necessary information.

Automatic flight logs:

this App automatically synchronizes your flight data ensuring your logs are easily accessible when you need them. This allows you to review your flight, learn from your mistakes and improve your skills. 

Live HD View

: with this feature, you can easily admire your surroundings or frame your shots as it gives you a real-time view of what your drone camera is seeing. It also gives you full control of the aperture, ISO, shutter speed, and other camera settings required to take the perfect shot. 

Compatibility:

This App is compatible with both iOS and Android devices and can be used on several drones, including:
Mavic Air, Pro, and 2 Pro / Zoom

Spark

Phantom 4, 4 Advanced, 4 Pro v2.0

Inspire 2

Matrice 200, 210, and 210 RTK
According to popular reviews, the DJI Phantom 3 Advanced Quadcopter Drone is one of the most popular models and is compatible with this App. It comes with a 3-axis gimbal, 2.7K HD video recording feature, and a Vision Positioning system that comes in handy when you're piloting your drone indoors. 
The DJI Mavic Pro 4K Quadcopter is also popular among drone enthusiasts, and it's not hard to see why. It comes with an extra battery, can fly at speeds of upto 40km/ hr, and has 4.3 miles transmission range. Ensure you pilot your drones safely because, based on a report by the BBC Trusted Source Police to crack down on drones flown dangerously Police in the UK are being given new powers to crack down on people flying drones irresponsibly or illegally, with dedicated teams on the lookout for those breaking the rules. www.bbc.com , the police have a crackdown on dangerously flown drones. 
Who Is DJI GO 4 Best For?
This App is a great fit for beginners or recreational drone flyers. It has everything you need to take a decent aerial shot without putting much effort and time into it. Its controls are fairly straightforward and easy to navigate, and it has all the basic features needed to fly a drone. DJI GO 4 is also a good alternative to the Litchi app, especially for drone flyers that only use their devices once in a while and are looking for a free app to help them with flight control. The other apps can be a bit of a cash drain. 
Pros
Cons

Easy to use.

It's free.

Has all the basic features required to fly a drone.

Automatic synchronization of flight logs

Relatively stable. 

Compatible with most DJI drones. 
Autopilot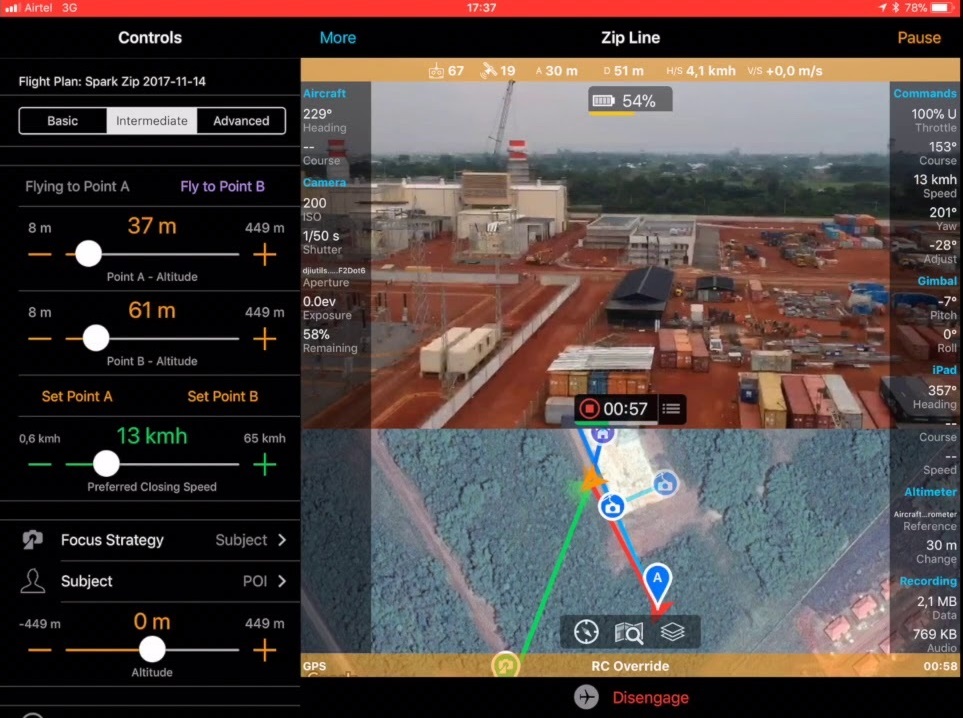 This drone app takes the lead when it comes to flexibility, and it gives you more leeway to be creative and customize your drone flying experience. The Autopilot app is a product of Autoflight and is a popular alternative among DJI drone owners. If you're looking for an added level of control that the standard App isn't providing you, then you'll enjoy this application. While Autopilot isn't as well-known as Litchi, it has more advanced functionality.  
Ease of Use
In comparison with the other 2 apples, Autopilot is, unfortunately, the most complex to navigate. If you're a beginner and you just decide to jump into the App, you'll get overwhelmed. The good news is that you get just as much as you put in. This means that even though the App seems complex, it has more sophisticated controls and advanced features that will enhance your flight experience. 
If you're having a hard time navigating the App, there are plenty of resources that you can use, including Youtube videos. Autopilot also has a learning center with tutorials and videos to guide you through the setup process. 
Stability

Autopilot is more stable compared to Litchi and DJI GO 4 apps. It will offer you greater reliability when it comes to app performance and the ability to capture videos and photos.

This App has a lot of adjustable features that allow you to achieve the exact shot you'd like to take during waypoint missions. 
Features
Flight modes:

this application supports various modes, including zip line, target, orbit, and follow modes. All of them are designed to offer you an unbeatable experience.

Screen recording

: just like in Litchi, this App has a screen recording feature that allows you to work on your flight plan in real-time. It enables you to identify the mistakes you made as you were piloting the drone, making it easy to revert back to the setup process and rectify the problems. This feature also comes in handy when trying to perfect your skill. For instance, if you once implemented a feature and it worked really well for you, you can go back and see what it was.

Detailed tutorials:

due to the complexities of navigating Autopilot, they have a robust learning center that will help you understand the controls better. To ensure you don't get overwhelmed by the variable features, we recommend that you adopt a divide and conquer approach; handle a few features at a time.

Built-in barometer:

this feature is only available in this App, and it notifies you when the drone is going uphill, particularly in the follow mode. It then adjusts the drone's height so that you don't get out of the shot. This feature comes in handy if you are looking to take some mountain biking shots or skiing shots. 

Air space feature:

this allows you to see exactly what your camera is 'seeing' from your App.
Who Is Autopilot Best For?
This App is perfect for professional drone photographers as it has advanced controls that are difficult for beginners to navigate. It could also be used by dedicated novice flyers that are looking for a flight control app that gives them the creative freedom to capture the highest quality shots. 
Pros
Cons

Supports Inspire and DJI Phantom drones.

High levels of customization and flexibility.

Automatic flight & camera control

Manual or automated gimbal controls

Availability of robust learning centers. 
So, Which Is Best?
When it comes to choosing the right drone flight control app, a one-size-fits-all approach doesn't work. You need to make your decision based on your skill level and individual needs. For instance, if you're a recreational drone pilot and are looking for a standard app with sufficient functionalities, then the DJI GO 4 would be a great option. It's free, easy to use, and has all the features you need. Litchi is a great option for intermediate drone fliers as it has a moderate level of customization and flight control features. It is a paid app, and beginners may have a hard time navigating it. AutoPilot, on the other hand, is the most complex App of the 3 and works best for professional photographers. It's sophisticated and has a wide range of flexibility and advanced flight control features that they would appreciate. 
Final Thoughts
Drones are revolutionizing various sectors, and according to CNN Trusted Source How technology is improving Africa's access to healthcare | CNN Business Access to medical care is not always easy in sub-Saharan Africa. But new technologies are helping to breakdown the barriers preventing medicines from reaching remote populations. www.cnn.com , they're being extensively used in the healthcare industry. When it comes to the battle of Litchi vs. DJI GO 4 Vs. Autopilot, there's no clear winner because they are fighting in different areas. DJI GO 4 is great for beginners and hobbyists; Litchi is perfect for intermediate drone flyers, while Autopilots is the best option for professional photographers. 
References
1.
What's new - Litchi
October 2021 Updates
2.
Police to crack down on drones flown dangerously
Police in the UK are being given new powers to crack down on people flying drones irresponsibly or illegally, with dedicated teams on the lookout for those breaking the rules.
3.
How technology is improving Africa's access to healthcare | CNN Business
Access to medical care is not always easy in sub-Saharan Africa. But new technologies are helping to breakdown the barriers preventing medicines from reaching remote populations.