Gone are the days when drones were considered toys. Nowadays, drones have several functions, and their operation has caught the eyes of the law. While most people use drones for aerial photography, anyone with malicious intent can use the machines to cause serious harm.
Today, the government is working to ensure drones are regulated. The regulatory framework for these unmanned aircraft is constantly being revised. If you live in Pennsylvania and have a drone, you need to understand the drone laws in the state.
Below is a guide that will help you better understand drone laws in PA.
Federal PA Drone Laws
The Federal Aviation Administration Trusted Source Unmanned Aircraft Systems (UAS) Whether you're a new drone pilot or have years of experience, rules and safety tips exist to help you fly safely in the national airspace. To get started, be sure to select which type of drone user you are and find out what rules and regulations apply to your specific situation. You can then begin researching where it is safe to fly and when you need approval to fly. www.faa.gov is the body tasked to implement the regulations regarding drone use in all states in the country, Pennsylvania included. The agency has provided various details on flying for work or fun. Let's break down some federal PA drone laws.
Commercial Piloting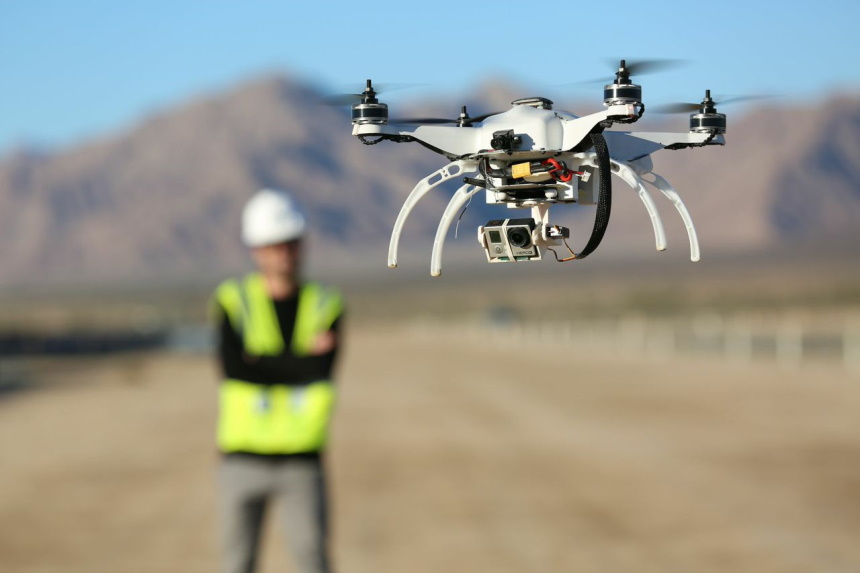 Commercial pilots with drones that weigh less than 55 pounds can fly following Part 107 guidelines. There are three moan steps to follow when under Part 107:
Learn The Rules
Ensure you know what is needed of you and what is illegal under Part 107. The 14 CFR Part 107 Small Unmanned Aircraft Systems Trusted Source eCFR:14 CFR Part 107 - Small Unmanned Aircraft Systems Except as provided in paragraph  of this section, this part applies to the registration, airman certification, and operation of civil small unmanned aircraft systems within the United States. This part also applies to the eligibility of civil small unmanned aircraft systems to operate over human beings in the United States. www.ecfr.gov outline drones' registration, certification, and operation in the United States. If you're unsure if Part 107 laws apply to you and your drone operation, you can confirm with the FAA user identification tool.
Some drone operations aren't covered by Part 107. You will therefore be required to file a waiver. Some examples of Part 107 that are subject to waiver include:
Operation from a moving vehicle or aircraft
Operation at night. You can check this list for the best night vision drones.
Visual observer
Visual line-of-sight aircraft operation
Operation in certain airspace
Operation over human beings
The requirement to fly in Class G airspace cannot be waived. Neither can the weight requirement.
You are also not allowed to fly drones near an airport because it's difficult for planes to see and avoid drones. If you do fly in an airport, you are responsible for any safety hazard your drone creates. You are also required to yield way to airplanes.
Become an FAA-Certified Drone Pilot
The requirements to be a remote pilot are as follows. You must be:
At least 16 years old
Able to speak, read, write and understand English
Be in great physical and mental condition to safely fly an unmanned aircraft
To receive your Remote Pilot Certificate, you need to take the Knowledge Test, obtain an FAA tracking number, schedule an appointment and complete the FAA form 8710-13.
Register Your Drone With The FAA.
Registration for a drone is $5 and is valid for three years. Drones such as the DJI Mavic Air 2 and the Potensic Dreamer Drone must be registered with the FAA.
Governmental Use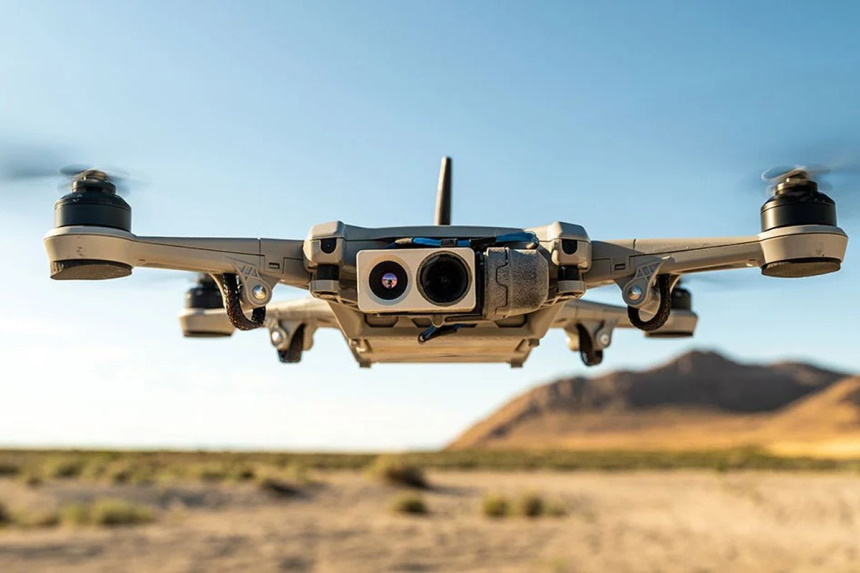 Government agencies and law enforcement can operate drones under 55 pounds in one of two ways:
They can operate the drones under CFR Part 107, which allows flying unmanned aircraft systems under 55 pounds at 400 feet above ground level for visual line-of-sight operations.
Operate under statuary requirement for public aircraft with a Certificate of Waiver to self-certify UAS for flights performing governmental duties.
Hobby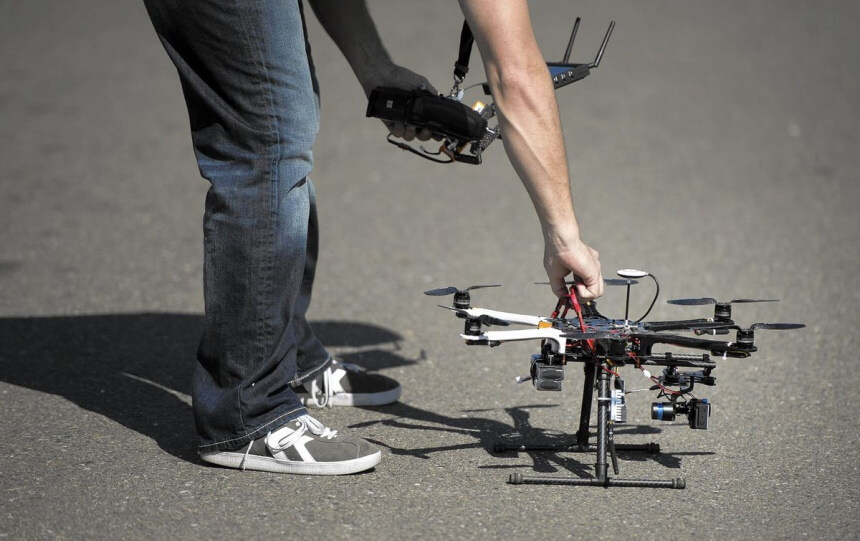 If you're flying for fun, you have to take The Recreational UAS Safety Test mandated by the FAA. You also should fly for recreational use only. No in-kind work is allowed. Your drone needs to be registered with the FAA, and your operation should be within the visual line of sight.
Your drone should be under 55 pounds and are required to avoid flying anywhere near an airport. You must operate your drone in Class G airspace. If you want to be able to fly in Classes B, C, D, or E, you can apply for an airspace authorization.
State PA Drone Laws
The following drone laws apply to every state, including Pennsylvania. These drone laws in PA were created by the federal government.
Title 18 Sec. 3505 // 2018
Under Title 18 Sec 3505, a person is found guilty of unlawful use of drones if they use them intentionally or knowingly to:
Operate in a way that results in another person fearing bodily harm
Conduct surveillance of someone else in a private place such as their home
Deliver or provide contraband
Under this section, the offense is graded under:
Subsection (a)(1) or (2)- A crime punishable by a fine not exceeding $300
Subsection (a)(3)- Felony of the second degree.
Police officers, firefighters, and medical responders are exempted from subsections (a)(1) and (2) if they engage in ways that align with the performance of their duties. Experts, however, warn law enforcement agencies against operating UAS over private properties due to the vagueness of drone laws. This is because any evidence they will have collected if they failed to follow the law to the latter will be inadmissible in court.
Subsection (a)(1) doesn't also apply to a person who engaged in aerial data collection if they used the drone in a fashion that complied with the FAA regulation. They are also exempt if the UAS was authorized by an exemption issued by the FAA. The rule doesn't apply to the person if they didn't intentionally conduct surveillance of another person in their private space.
Title 53 Sec. 305 // 2018
Sec 305 preempts and supersedes any rules or ordinances enacted by a municipality regarding the operation or ownership of drones in relation to the unlawful use of unmanned aircraft. Under this provision of Title 18 Sec 3505, municipalities can't regulate the ownership and operation of drones unless authorized by statute. As used in this section, the term municipality includes a city, borough, incorporated township, or county.
Local PA Drone Laws
The following are local PA drone laws enacted by the federal government.
Title 53 Sec 305
Title 53 Sec 305, as discussed above, establishes a preemption policy of Title 18 Sec 3505 that surpasses any rules and regulations that allow municipalities to man and govern the ownership or operation of drones. As of October 12, 2018, municipalities can't regulate the operation or ownership of unmanned aircraft unless they have authorization by statute.
Personal Property
Under Pennsylvania UAS law, it is illegal to fly a drone over another person's space that they consider private. Your neighbor has legal grounds to sue if your drone flies below 400 feet over their property more than once without their permission.
However, if you're flying the drone on your personal property, you can do so by ensuring you don't violate any local laws or ordinances.
Recreational PA Laws
If your drone is less than 55 pounds, you can operate it recreationally in accordance with the drone as defined by the FAA Part 107. Part 107 approves the recreational operation of unmanned aerial systems.
Parks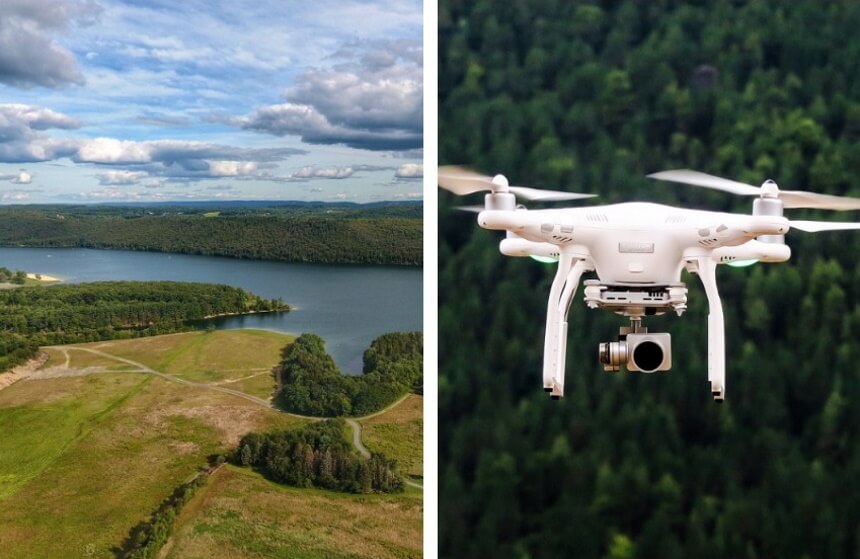 The Bureau of State Parks put forward a new management policy to balance privacy concerns, view-shed and sound-shed protection, public safety, and FAA regulations. In Pennsylvania, recreational operation of unmanned aerial systems is restricted to flying in six designated parks, including:
Benjamin Rush State Park
Hillman State Park
Tuscarora State Park
Beltsville State Park
Lackawanna State Park
Prompton State Park
If you're planning on operating your UAS in any of these flying sites, you need to contact the park office in advance to ensure they're updated on any rules and regulations. All other state parks in Pennsylvania are off-limits to recreational drone use.
Cultural Preserves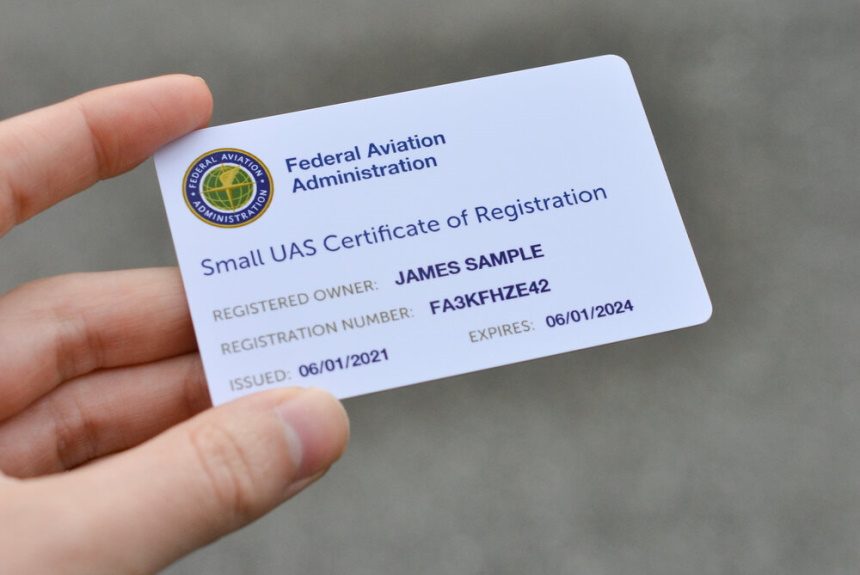 Drone laws in PA prohibit the use of unmanned aerial systems within cultural preserves and natural preserves. Before operating your drone, ensure you check the preserve's designation.
The following rules will help you stay out of trouble when operating your drone in public airspace in parks for recreational purposes:
Fly for enjoyment
Follow the FAA-recognized safety guidelines.
Maintain the visual line of sight at all times when flying
Do not interfere with manned aircraft and always give way.
Fly at or below 400 feet below ground level in controlled airspaces, Class B, C, D, and E, with prior authorization.
In uncontrolled space (Class G), fly at or below 400 feet.
Always carry proof of TRUST test passage. TRUST stands for The Recreational UAS Safety Test.
Have updated registration and mark your UAS on the outside with your registration number. Remember always to carry proof of estimation with you. If your drone weighs less than 0.55 pounds, you are not required to register or mark it.
Do not interfere with law enforcement or emergency response activities.
Do not fly near or over critical infrastructure.
Do not infringe on other people's privacy.
Do not operate the UAS under the influence of drugs or alcohol.
Recreational pilots shouldn't fly drones that weigh more than 55 pounds.
If you intentionally violate any of the above safety requirements or operate your drone carelessly in a fashion that may endanger people, you could be liable for criminal or civil charges. It's advisable to first consult with the FAA regarding the rules and regulations on proper usage of recreational UAS around cultural preserves and parks.
Final Thoughts
Drone laws are relatively new but are gaining ground with the ever-increasing usage of UAS. However, the law is still unclear in various cases, and it remains up to the courts to decide further on how said laws need to be enforced.
Before flying your drone, ensure you are updated on the various Pennsylvania drone laws to avoid finding yourself with a case to answer. A bit of common sense also helps in many of these situations. Additionally, choosing the right time to fly can go a long way in ensuring you minimize interactions with people. If you know and follow all the rules, you'll derive enjoyment from using your drone.