Aerial filmmaking is one of the best ways to have fun and make money at the same time. Yes, you can have an income from selling the gigabytes or terabytes of the drone footage you have. There are only a few things you need to know before you turn your drone into a means of making money. The first thing to keep in mind is the legalities involved. You must be aware of the drone laws in your country and what is needed of you to fly safely in the national airspace.
If you have the license to fly, you don't have to worry about actively looking for clients to buy your drone footage. There are myriad sites dedicated to collating media content and selling them openly to various customers. They are like marketplaces for content creators and clients to meet. This article has everything you need to know about these marketplaces and the types of drone footage you can sell on them.
Types of Drone Footages to Sell
Just because there are plenty of sites to sell drone footage doesn't mean that any aerial video clip you upload on them guarantees good pay. You have to ensure the quality of your videos is on par with their standards because they pride themselves in selling carefully curated content only.
Before you choose the type of content to upload on the sites, ensure your footage is top-notch quality. If you don't already have the right equipment, invest in the best quality drone with a 4K camera and a mechanical stabilizing gimbal. Once you have the right equipment, you can worry about standing out with your technical skills and creativity.
If you are looking to go all-in selling drone footage, here are some of the best-selling shots you can start with;
Sports
Many sports channels would love unique content besides the ones available online through traditional cameras. Drones have the ability to capture events and things from a different angle. You can choose a favorite sport like football, basketball, or even motocross circuits with jumps, then notify the relevant people beforehand.
Urban landscapes
There are tons of options for capturing top-quality urban landscape shots. They are great for balancing your portfolio, and there is so much you can do if you are creative enough. When choosing your subjects, keep in mind that subjects convey different moods. For instance, footage of a modern landscape with tall buildings will convey a different mood from that of a small quaint one.
Be sure to capture the beauty of modern engineerings, like a super-highway jam-packed with cars, trains, and shipyards. Avoid flying over moving vehicles and crowds. Plus, you don't want to have recognizable faces in the footage if you don't have consent to include them in your commercial shots.
Nature landscapes
Nature videos are the easiest to sell because they are highly versatile, and they can be spliced into tourism videos, advertisements, or even feature films. Moreover, nature videos are relatively easy because there are endless subjects worth capturing, from deserts to forests and oceans. Your creativity is unlimited when it comes to capturing enticing nature drone footage.
Infrastructure
Some pieces of infrastructure can pass as landmarks because of their historical significance or uniqueness. You can make great aerial videos of such scenic infrastructure, but you have to ensure you capture them with some uniqueness that sets them apart from the already existing videos.
The main challenge you may experience with filming in these locations is that they usually have large crowds, and flying over crowds is usually prohibited. You can choose to fly when the crowds are thin or simply get a par 107 waiver.
Time-lapse and unique shots
Some drones can shoot time-lapse videos, which is a video technique that compresses a series of photos taken over a period of time to a short interval with some sense of fluid motion. These types of videos require great stabilization and are often hard to capture with a drone. If you have an interesting subject and think the conditions are right to capture a time-lapse video, go for it.
Since they are a rarity, drone time-lapse videos sell really well. The fact that you can include so many moving subjects on a single frame like moving traffic, the sun setting, and people walking down a street makes drone time-lapse videos interesting.
DJI Mavic
This is one of the best drone lines on the market. The Mavic series has drones with superior build quality and high-end camera and flying features that guarantee the best quality footage.
The DJI Mavic 3 is a prime example. It comes with a unique 4/3 CMOS Hasselblad camera and a sensor that offers a 12.8 stop dynamic range that retains great detail both in shadows and highlights. It also has a smart return home feature that guarantees you the safety of the drone and a whopping 46-minutes flight time.
DJI Mavic drones are not cheap, and they usually have multiple features that a beginner may find overwhelming. If you are looking for a reasonably priced drone with a couple of useful features, try the popular Holystone HS700E. It has fantastic features for endless fun and is super easy to use.
Where to Sell Drone Stock Footage
Here are some of the popular sites on which you can sell your drone footage;
Shutterstock
Shutterstock Trusted Source Stock Images, Photos, Vectors, Video, and Music Download the best royalty-free images from Shutterstock, including photos, vectors, and illustrations. Enjoy straightforward pricing and simple licensing. www.shutterstock.com is a big wig in the stock media industry, and it is popularly known for stock images, and even their marketing leans so much towards photos than videos. However, the site has an expansive selection and a gallery dedicated to aerial videos.
Unlike Getty Images, Shutterstock has more attractive incentives for its contributors. All videos fetch a price of 400 dollars, and contributors get a cut of 30% for all stock video sales. The brand empowers its contributors by helping them develop their skills through their content. They have a blog that everyone can access for creative inspiration.
With the 'shot list' that Shutterstock provides, you get to know the content that is in high demand so that you can work to earn more. In a nutshell, joining Shutterstock is like being part of a community. Even filmmakers are offered a video workshop hosted by a team of experts.
DroneStock
DroneStock Trusted Source Download Free Drone Stock Aerial Video Footage Clips Drone Video – Drone Stock Aerial Footage dronestock.com is one of the most popular marketplaces that connect drone content creators and buyers. Its hallmark is that it specializes in drone videos only. It is the ultimate site for buyers looking for aerial videos and are not interested in sifting through other unnecessary media.
Drone stock has made a name for itself over the years with loyal clients who are big wigs in the TV and movie production industry. Although it has a footing in Hollywood, Drone stock has a lot of focus on social media ads to widen its footprint in the industry.
Moreover, Drone stock is one of the best-paying marketplaces. If you decide to host your drone footage with the site exclusively, they allow you to earn up to 50% of all sales from your content. If you choose to host non-exclusively, you get 30% of the sales.
Unlike many other sites, Drone stock doesn't require you to have a minimum number of sales to earn royalty. You get your cut from each transaction on the site.
Since it is a well-established brand, Drone stock goes out of its way to field requests from filmmakers, producers, and directors for certain shots then sends them to their contributors. The site, therefore, offers a lot of opportunities for its contributors that they would never get elsewhere.
Gettyimages
Gettyimages Trusted Source Royalty Free Stock Photos, Illustrations, Vector Art, and Video Clips - Getty Images Find the perfect royalty-free image for your next project from the world's best photo library of creative stock photos, vector art illustrations, and stock photography. www.gettyimages.com is one of the few recognizable names in the standard stock media sites realm. Standard stock media sites are still more popular than sites that specialize in aerial videos only. Getty Images is a top favorite for many producers and filmmakers globally.
The site is famous for stock images, but they also sell stock videos. Since their stock videos gallery is still smaller than their stock images gallery, drone content creators are advised to take advantage of the potential market.
All the videos you submit to Getty images become exclusive to them. You cannot submit these videos elsewhere. Plus, you only get 25% of the total sales for all royalty-free videos. These terms sound unattractive, but there is a bright side to them.
First off, Getty images is one of the most popular stock media sites, and this means that your high-quality video is highly likely to have a line of hundreds of buyers. Second, the site commands above-average prices that will give you great returns.
Applying as a contributor to the site is very straightforward. All you have to do is submit Youtube links on the Getty images smartphone app then wait for feedback from the editors. If approved, you can upload any content so long as it is on par with the site's standards.
Pond5
Pond5 Trusted Source Stock Video & Royalty-Free Music | Pond5 Search the world's largest HD & 4K stock video library plus millions of music tracks, SFX, motion graphics, and images. Professional quality, affordable prices. www.pond5.com is another well-established stock video website with a great reputation on the internet. It is popular because it is user-friendly and it accepts videos from both amateurs and professionals. The site's rates begin from 49 dollars per download, depending on the plan you choose.
Unlike the other Stock, video sits, Pond5 has its own affiliate program that pays up to 40% commissions per sale. The brand has a partnership with Amazon, which helps boosts earnings. Besides drone footage, Pond5 provides music, after-effects and other types of footage. This means that your content will have to stand out for it to sell well.
Blackbox
Blackbox Trusted Source BlackBox We envision a world where every creator owns a piece of everything they work on. When we say our mission is Creator Freedom, we really mean it. www.blackbox.global is not a stock media site per se, but a platform that forwards its contributors' stock media to stock media sites like Shutterstock and Pond5. The brand's main aim is to free up the hands of content creators so that they can dedicate all of their time to content creation.
Becoming a member of Blackbox is pretty simple. You just need to create an account then upload your videos on their portal. Currently, the site has a more focused clientele as they are only accepting stock videos.
Another unique thing about Blackbox is it can double as a collaboration platform. For instance, you can upload a video on the platform for an editor to cut or color grade before they submit it to a stock media site. Everyone involved in the production of the final video gets their cut from the total earnings.
Basically, Blackbox aims at bringing all creative together to reduce content creators' legwork. Even filmmakers can get in touch with studios, and talent via Blackbox.
The only downside of Blackbox is that it is a middleman and they get a cut from each transaction. When you sell your aerial video, the stock media site gets 60%, and Blackbox gets 15%, leaving you with 25%.
Personal Website for Drone Footage Selling
Another way of selling your drone footage is by starting your own website. It is not the easiest or quickest way of monetizing your content but it is highly rewarding in the long run. You must know how to build a website and drive traffic to it so that many potential customers can see your content.
The best thing about having a personal website is that you can make money by other means like running ads and affiliate. These combined with selling your content to a customer directly beat the 25 to 50% offered by stock media sites.
Setting up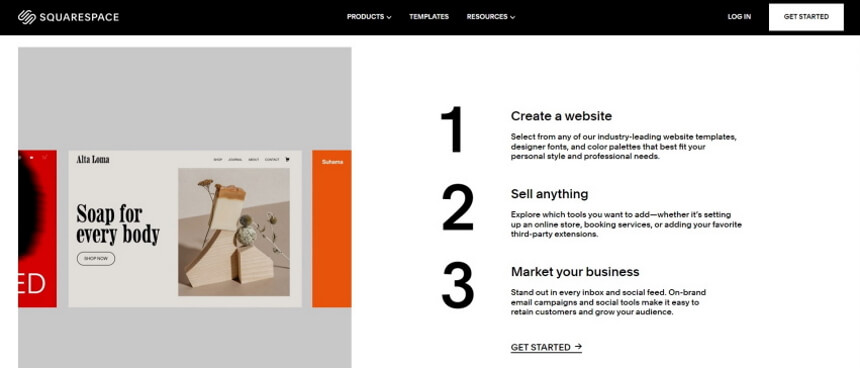 Setting up a website is such a breeze. You only need to register a domain name with any name provider then you can start hosting. There are myriad services that you can use to set up a website in a matter of minutes like squarespace.com and wix.com. The only downside of these sites is that they require you to pay an increased subscription rate for more flexible features.
Traffic
After successfully setting up your website, you have to drive traffic to it. There are a couple of ways to go about it. One is using paid advertisement on social media and another is starting a blog. You also need to learn Google SEO and all the skills needed to run a website efficiently.
Driving traffic to a website takes a lot of time and effort. You need patience as it may take you a couple of years to get a high traffic that can give you significant income. Pay keen attention on what your customers are doing on your website to understand their needs. Understanding their habits and preferences can help you make your website successful.
Once you have enough traffic on your website, you can direct people to your drone images and videos which you can sell principally as digital files.
Monetization
With a steady flow of traffic to your website, you can monetize it in a number of ways besides selling your drone footage directly to customers. If you rely on one stream of income you can dry up fast because uncontrollable circumstances like a Google algorithm change. Here are some of the best ways in which you can monetize your website;
Ads
Ads are the easiest way of monetizing a website. However, it is the least effective way because you need a load of traffic for you to make a significant earning.
The little amount of income you can get from ads may be what you need to continue exploring your creativity with your drone.
Affiliate
Besides selling your drone footage, you can act as an affiliate for other services and products by recommending them through your website. This also needs a massive amount of traffic on your site for you to earn a significant income. The little you earn may be all you need to go on with your drone adventures.
Sell your content
When you are certain you have high traffic, you can go ahead to sell your drone footage. You can take amazing photos and videos of your local area in a creative way that gives people a new perspective of their locality then advertise them on your website and other socials.
Ensure you only post high-quality content to attract serious buyers.
Final Thoughts
You may have bought a drone for wedding photography or for night time adventures, and now you are stuck with a load of drone footage. Well, the good news, is you can sell your drone footage, provided it is top quality. If you are operating within the drone laws Trusted Source How to Register Your Drone Register your drone at FAA DroneZone either under part 107 or the Exception for Recreational Flyers. If you are not sure what kind of a drone flyer you are, check out our User Identification Tool or visit our Getting Started webpage to learn more. www.faa.gov in your area, you can burst your creative seams and take amazing photos and videos of your surroundings then sell them to the multiple stock video sites available.
If you are patient enough, go the long route of creating your own website. It will not give you good returns immediately, but once you have a high traffic to your site, selling your content will be a breeze. Plus, you can create other income streams on your website as you grow it.